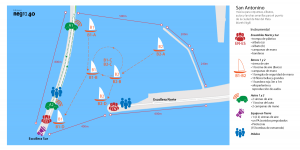 San Antonino (2016 – 2018)
música para orquestas, silbatos, autos y lanchas amarillas
para el puerto de la ciudad de Mar del Plata
Martín Virgili
San Antonino es una música compuesta para el puerto de Mar del Plata. Nos proponemos hacer audible un espacio de 640.000 metros cuadrados interviniendo el paisaje sonoro propio del lugar con diversas fuentes sonoras. Este trabajo se incluye dentro de las obras situadas en la temática arte y territorio y puede ser comprendida a escala local, regional y global.
El proyecto consta de dos ensambles de trompas y silbatos (ubicados en las escolleras sur y norte), dos autos con sirenas (que se mueven a lo largor de la escollera sur) y lanchas amarillas equipadas con sirenas, bocinas y músicos.  Además, un equipo de sonido de alto alcance, ubicado a la altura de "el Cristo" de la escollera sur, reproducirá tomas de campo de la peregrinación náutica y del puerto.
Los puertos desde siempre aludieron al intercambio de ideas, novedades, mundos nuevos. Son lugares inestables, dinámicos, rítmicos, de negocios, sí, pero de solidaridad también, de atención, de cuidado, de trabajo en equipo. Hay una economía, es cierto, pero es una economía de aventura, una apuesta constante que sus trabajadores y trabajadoras realizan a la suerte y al mar. Los puertos son territorios emocionales, en ellos alegrías, ambiciones, temores, desazones, resignaciones, esperanzas. Todo este gran movimiento ampara una sonoridad social y geográfica, que queremos amplificar.
Entre estruendos y sirenas, vociferaciones y bocinas, San Antonino se remonta a las causas que propiciaron la construcción de una identidad local, como «la peregrinación náutica", «la fiesta de los pescadores", «el bautismo a las aguas", y sobre los modos de apropiación y significación del territorio que esos rituales vernáculos promueven. De este modo, el puerto de la ciudad de Mar del Plata se presenta como un paradigma para la salvaguarda patrimonial y social de la ciudad, a la vez que describe aspectos de la historia y de la vida cotidiana de sus trabajadores/as.
Finalmente, motiva este trabajo la debilitada situación patrimonial en la que se encuentran las tradicionales lanchas amarillas del puerto de Mar del Plata y la descolorida conciencia comunitaria sobre esos bienes. Esta situación nos impulsa a desarrollar una obra de altísima complejidad y coordinación que sirva de modelo para la realización de un proyecto comunitariamente convocante.
Participan
Ensamble Vocal UNTREF
El Recicle
Ensamble Negra40
Creciente
Orquesta Inestable del Club del Dibujo
+ muchos artistas de la ciudad
Apoyan
Negra40
Fondo Nacional de las Artes
UTN – MdP
UNTREF
Museo de Arte Contemporáneo MAR
Club del Dibujo
Consorcio Portuario
Grupo de Composición Conservatorio Luis Gianneo
Proyecto Intemperie
Escuela Nacional de Pesca «Luis Piedra Buena»
EMPRESAS AUSPICIANTES
ANAMORA
Club Náutico Mar del Plata
IMMC (Instituto Marplatense de Música Contemporánea)
Agradecimientos especiales
Manuel Morilla
Roque R. Nóbile
Jorge Tarnovsky
Ricardo Manocchio
Eduardo Mayer
Voluntarios y colaboraciones
Email: [email protected]
---
San Antonino (2016 – 2018)
music for orchestras, whistles, cars and yellow boats
for the port of the city of Mar del Plata
Martin Virgili
«San Antonino» is a musical composition made for the port of Mar del Plata. We intend to make a space of 640,000 square meters audible by intervening in its sound landscape with different sound sources. This work, which can be understood at the local, regional and global levels, explores the ways in which art can help denaturalize understandings of geographic spaces and recover untold histories of a region.
The project consists of two horn and whistle ensembles (located in the southern and northern breakwaters), two cars with sirens (moving along the southern breakwater) and yellow boats equipped with sirens, horns and musicians. In addition, a high-range sound system, located at the top of «the Christ» statue on the southern breakwater, will reproduce field shots of sounds from the annual nautical pilgrimage and everyday life at the port.
Ports have always referred to the exchange of ideas, novelties, new worlds. They are unstable, dynamic, rhythmic, places of business, yes, but also of solidarity, attention, care, teamwork. There is an economy, it is true, but it is an adventure economy, a constant bet that its workers make on the sea. Ports are emotional territories, in them we find joy, ambition, fear, disappointment, resignation, hope. All this great movement shelters a social and geographical sound, which we want to amplify.
Between roars and sirens, shoutings and horns, San Antonino goes back to the myths that forged the construction of a local identity, such as «the nautical pilgrimage», «the feast of the fishermen», «the waters' baptism», and asks us to think of  the modes of appropriation and significance of the territory that these vernacular rituals promote. The port of the city of Mar del Plata is presented as a paradigm for the city as source of cultural heritage and pride and social safeguard, through descriptions of aspects of the port's history and the daily life of its workers.
Finally, this work is motivated by a desire to intervene in the decline in cultural heritage in the city and the country as a whole; the traditional yellow boats of the port of Mar del Plata are in disrepair, and symbolize the discolored community awareness of the city's goods. This situation impels us to develop a work of the highest complexity and coordination that serves as a model for the realization of a community project.
Participants
Ensamble vocal UNTREF
El Recicle
Ensamble Negra40
Creciente
Unstable Orchestra of the Drawing Club
+ many artists of the city
Supporters
Negra40
Fondo Nacional de las Artes
UTN – MdP
UNTREF
Museo de Arte Contemporáneo MAR
Club del Dibujo
Consorcio Portuario
Grupo de Composición Conservatorio Luis Gianneo
Proyecto Intemperie
Escuela Nacional de Pesca «Luis Piedra Buena»
Sponsoring companies
ANAMORA
Nautical Club Mar del Plata
IMMC (Institute of Contemporary Music of Mar del Plata)
Special thanks
Manuel Morilla
Roque R. Nóbile
Jorge Tarnovsky
Ricardo Manocchio
Eduardo Mayer
Volunteers and collaborations
Email: [email protected]